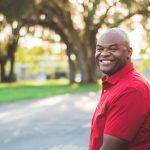 Pastoral Counseling
B.S. Psychology
Certified Prepare/Enrich Premarital and Marital Assessment
Certified Symbis Premarital and Marital Assessment
Roy uses biblical teachings to come along and walk with you through your journey. As a pastor and with 20 years of military experience, Roy has mentored and counseled individuals and couples as they work to achieve their goals.  Roy believes each individual is created to live an Unmistakable Life, a unique and distinct life, lived on purpose for every purpose of your design.
Areas of Expertise – Pre-Marital, Marital, Conflict Resolution, Communication, Grief, Anxiety, Anger Management, PTSD, and Stress Management.
Fee: $75.00 for 50 min session.
Virtual sessions are available.
Location(s): GFC Land O' Lakes